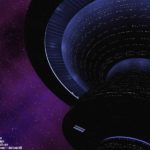 With the discovery of a new alliance claiming control of the planet in question, Thracia 2 is handed over reluctantly when the Romulan ambassador aboard Starbase 118 stands down after learning of her peer's association with the alliance. A plot intended to provoke war is uncovered by the Klingons about the same time, lending to a quick and amicable conclusion to the volatile situation.
The USS Victory, NCC – 362447, returns to the Starbase to partake in a short shore leave, but before the officers can officially be released, a duplicate of the Captain and deceased Guy Hunt are discovered taking weapons from a storage locker near the Strategic Operations Office. While puzzling, the two seem to disappear and it is decided to allow leave to proceed as scheduled.
Data is uploaded to the Victory, where all officers are meeting for a banquet awards dinner and a quick trip to a nearby planet for a well deserved getaway conceived by Lt. Commander Kalianna Nicholotti and approved and set up by Captain Andrus Jaxx. Little do they know that nothing is ever as simple as it might seem, especially shore leave for the senior staff on another world.
Follow the crew of Starbase 118 Operations on their Yahoo Group!