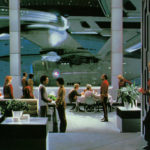 Don't forget to stop by the chatroom today — Sunday, March 10th — for our monthly community chat! These chats occur on the second Sunday of every month and are open to any member of the Starbase 118 group. Come by and see, in real time, what other folks in the fleet have been up to!
The chat starts at 10am Pacific / 1pm Eastern / 5pm GMT / 4am Monday UTC+11. Always check your time zone for accuracy/DST if applicable!
Chat is always open on the site: https://starbase118.net/chat/
If you have problems connecting, use the instructions listed below the chat box.