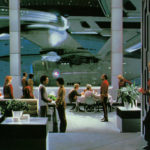 Please make a note that the chat date has changed only for the month of May, to avoid a conflict with Mother's Day, which falls on the second Sunday of the month (when we usually hold our chats). For May, our fleetwide chat will be held on Sunday, May 19th at 10am Pacific / 1pm Eastern (US) / 5pm GMT (UK) / 4am Monday UTC+11 (AUS).
To participate, simply head to our online chat room, at: https://starbase118.net/chat — if you have problems connecting, use the instructions listed below the chat box.
Our fleetwide chats are a space for all the members of the StarBase 118 group to get together and talk in real time about everything that's happening within the group. Come by and see what goings-on are happening off your ship! Chats are always held on the second Sunday of every month, but you can head into the chat room at any time to see who else is there.