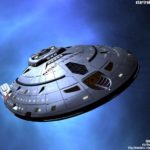 The edges of the Federation are fraying.
Disarray festers in the Romulan Empire as they fend off a Klingon invasion that threatens to throw the whole quadrant into war. Meanwhile, a movement is growing among the Zakdorn — so renowned for their strategic minds that they have not in recent memory been challenged in battle — to defect from the Federation, join the Klingons in battle, and destroy the Romulan Empire forever. If the dissidents succeed, it could force the Federation to rewrite their whole playbook. Could a key Federation member really be this close to defecting?
Enter Captain Diego Herrera and his dauntless crew, who arrive on Zakdorn in the midst of this political upheaval to claim their newly-completed ship — the USS Vigilant — and her upgraded armament. But before they can leave, they must assist the loyal Zakdorn government in diffusing the momentum of the potential coup, which could soon grow too massive to oppose.
This is a mission that will require sharp minds, diplomatic skills, technological expertise, and the tactical knowledge to thwart a Klingon even more treacherous than it appears. But will the untested Vigilant be able to protect Herrera and his hand-picked crew as they head into the Zeta Gelis region to solve this puzzle and save the Beta Quadrant from war?
Click here for more information and to sign up.
All members of the fleet are invited to find out more about our new ship and initiate a transfer. Your Captain has already been briefed on this exciting launch, which will help lower crew sizes back to normal levels across the fleet. Click the link below to read more about the new ship and find out how you can start your transfer without losing your promotion status: http://go.starbase118.net/join-vigilant