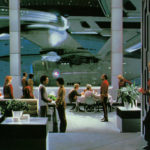 Don't forget to join us for our monthly community chat today, Sunday the 9th. This is our last chat of the year, and the last one before the fleet-wide 2012 Awards Ceremony! Join us to get to know your fellow fleet-mates, talk about the upcoming ceremony, and discuss plans for next year.
The chat starts at 10am Pacific / 1pm Eastern / 5pm GMT / 4am Monday UTC+11. Always check your time zone for accuracy/DST if applicable! (Calibrate against the Eastern time zone — we know that one's correct.)
Chat is always open on the site: https://starbase118.net/chat/
If you have problems connecting, use the instructions listed below the chat box.