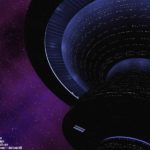 The Senior Staff of Starbase 118 Operations, (currently aboard the USS Victory NCC-362447) under the command of Captain Andrus Jaxx, had embarked on an expedition to the beautiful resort planet of Eschevar for a well deserved shore leave following an intense peacekeeping mission in the Romulan/Klingon neutral zone. For some, this would be their final journey on the Victory.
At the behest of his First Officer, Cmdr. Kalianna Nicholotti, Jaxx decided to grant his tired staff the above average shore leave she recommended. While en-route to the Eschevar Resort, Jaxx held a formal ceremony wherein many awards were given out for the year's accomplishments and a good time was had by all, even the newer members of the crew.
Upon arriving at the planet of Eschevar, the staff disembarked and enjoyed the many luxuries the resort-world had to offer including white-sand beaches, lush wilderness, mountains, and the all inclusive resort itself.
Early in the morning on 238901.29, on what would turn out to be the final day of their leave, Lieutenant Tressa went into labor; at 0434h Commander Nicholotti delivered McKenzie Kalianna and Mykel Hunter Jaxx, both healthy Gideon/Betazoid babies, via C-section in the Victory's sickbay. Later that same morning, Jaxx received new orders from Starfleet, reassigning himself and a few members of his staff. The orders and reassignments effectively end their leave early and change the lives of everyone on the Senior Staff.
Follow the crew on the Starbase 118 Ops Yahoo Group!